Release issue: #74
Today's Topic
EZ Sync magically updates your files everywhere you go!
Still using flash drives to save and edit the same files? Still wasting money on low capacity cloud services? EZ Sync is like using the NAS as a high capacity cloud storage service that has synchronization features without fees.
Most people today have at least a desktop at home or work, a laptop as well as a smartphone. To use EZ Sync, install ASUSTOR EZ Sync on your computer or AiData on a smartphone. As well as update your NAS to ADM 3.2. Afterwards, your NAS will now have the ability to synchronize information between the NAS and your devices.
EZ Sync not only can autonomously modify files on any device, but also synchronizes files between all other connected devices. EZ Sync also keep previous versions of files, preventing unintentional deletion or modification of files. Files can also be restored from EZ Sync Recycle Bin. EZ Sync also makes things easier with the ability to conveniently create share links to share files with friends and family.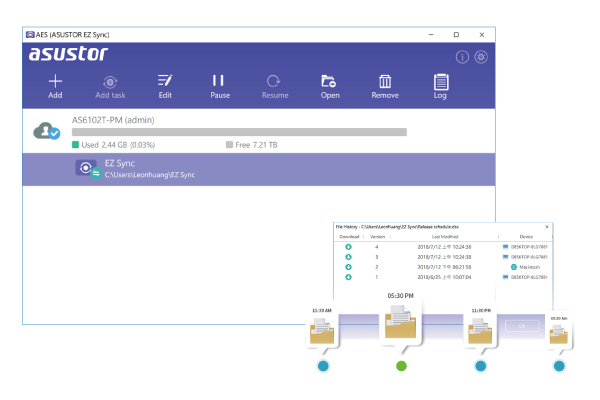 For our archive issues, please visit website:
https://www.asustor.com/en/news/Newsletter