AS6202T performs outstanding results both in hardware and software. Here we got the award from eTeknix UK.
"Wow, wow, wow. Where do I begin? The ASUSTOR AS6202T is an amazing NAS for prosumers, enthusiasts, and SMBs alike. The NAS is built upon a powerful CPU that supports 4K output, it comes with plenty of memory and an operating system that just works. With ADM, you don't have to fiddle around and try this and that, you just do and are done with it. It is as simple to use for beginners as it is for advanced users.
We saw a really great performance from the NAS in our benchmarks and it impressed in the normal drive setups as well as with iSCSI and encrypted shares. The AS6202T keeps the performance top and didn't let me down a single time during my tests. There is no shortage of built-in features and there are tons of apps that can be installed from backup solutions to media players and email servers.
Connection wise the AS6202T is top. You get plenty of USB ports and even two eSATA ports that I really love to see and having two of them makes it even sweeter. Dual Gigabit Ethernet LAN with support for failover and link aggregation setups guarantee a strong connection while the HDMI port allows the NAS to be used directly as an HTPC replacement with 4K (2160p) support. It looks good, it works well, performs great, and has every connection you'll want. What's not to love about the ASUSTOR AS6202T?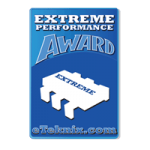 For complete review, please visit:
http://www.eteknix.com/asustor-as6202t-enthusiast-2-bay-4k-capable-nas-review/