RAID is a technology for managing storage. Its main purpose is to add fault tolerance by distributing data with redundancy across multiple hard drives.
In response to the different needs of users as well as different varieties of storage configurations, the RAID level can be chosen by the user.
The RAID levels currently supported by ASUSTOR include: Single, JBOD, RAID 0, 1, 5, 6, 10.
RAID 0 is the only one without redundancy and should only be used if speed is needed and data security is not needed.
RAID 0 or JBOD Volume cannot be upgraded to other RAID levels. If your RAID array cannot be upgraded, data needs to be backed up to another storage device and the volume recreated.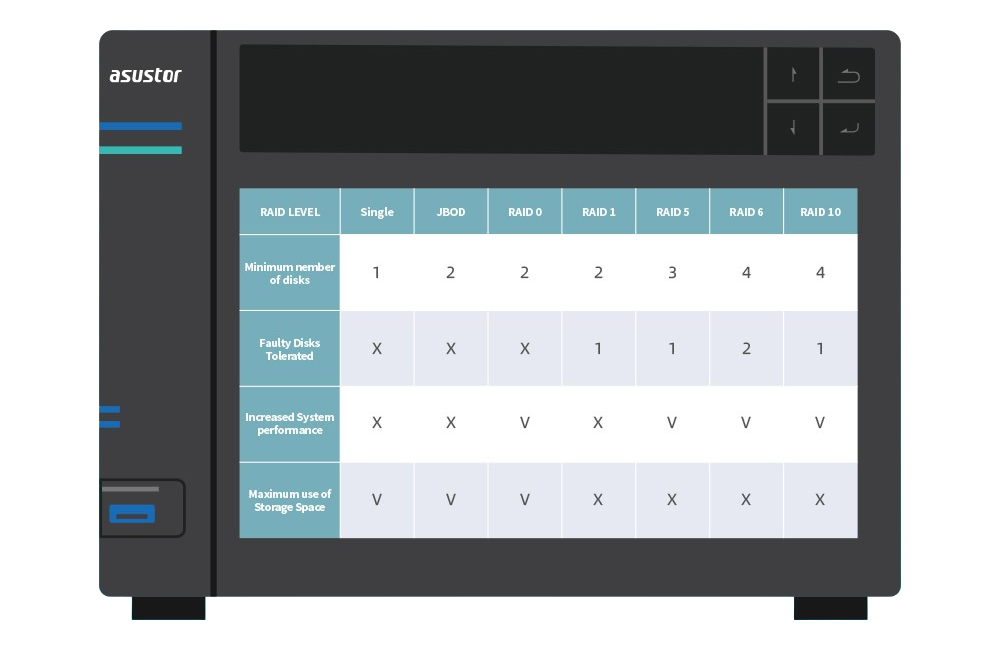 It is worth noting that RAID is not a backup. For example, if multiple hard drives in a RAID system are damaged at the same time, or data is accidentally deleted or attacked by ransomware, data is not protected.
RAID helps protect against drive failure and allows for borrowed time to recover data.
Therefore, in order to maintain data security, you must also regularly back up data, set up firewalls, and follow ASUSTOR data protection recommendations.
RAID is a powerful tool for data protection, but only when used in combination with proper backups and other data protection measures.