Hey guys,
I decided to create an installation package, because the migration process from Nextcloud 13 to 16 was not possible for me.
I didn't test if a migration works with this apkg, I made a fresh installation. Maybe someone can try?
The whole installation worked fine for me on my AS-6202T, but should work on others as well.
I made a small change in the last version and wasn't able to test it, because I already installed it completely, but it should work.
Icon in ADM: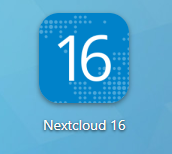 Installation:
1.

DO A BACKUP OF YOUR WHOLE OLD NEXTCLOUD FOLDER AND DATA FIRST

(should be "Web->nextcloud12" on GUI or /volume1/Web/nextcloud12" on CLI)
2. Remove Nextcloud 12 App
3. Install "PHP 7" App (Link)
4. Install my "Nextcloud 16" App

manually

(Download)
5. Open Nextcloud 16 App
6. Finish configuration

If you get any Errors while installing, please give me some logs to check it.
Installation and use of this app is, at all times, "at your own risk." I'm not responsible for any damages whatsoever resulting from the installation or use.
Some known Errors after installation (mostly because of standard Asustor settings):
HSTS warning:
Add the folowing into the 2nd line of your nextcloud .htaccess file (/Web/nextcloud16/.htaccess)
Header always set Strict-Transport-Security "max-age=15552000; includeSubDomains"
PHP Memory Cache:
Add this to your nextcloud config file(/Web/nextcloud16/config/config.php):
'memcache.local' => '\OC\Memcache\APCu',
PHP Memory Limit:
Go to the PHP7.ini(/usr/local/AppCentral/php7/etc/php.ini) and change the line
memory_limit=128M to
memory_limit=
512M
Expand Upload limit:
Go to the PHP7.ini(/usr/local/AppCentral/php7/etc/php.ini) and change the following lines
post_max_size =
2G
upload_max_filesize =
2G
2G = 2 Gigabyte, change it if you need more.
Cron Job instead of Ajax:

Currently not working. Will try to find a fix for it.


Test first if this command works for you: php -f /volume1/Web/nextcloud16/cron.php
Then edit crontab with "sudo crontab -e"
Insert at the end of file:
*/15 * * * * php -f /volume1/Web/nextcloud16/cron.php
-> every 15 minutes is the cron job done now.
Check with: sudo crontab -l
Feel free to comment if you have any feedback or problems